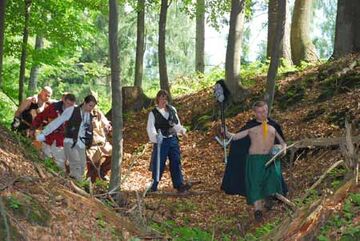 Zardzewiały Topór Tygodniówka to flagowa impreza klubu fantastyki "Zardzewiały Topór". Odbywa się ona nieprzerwanie od 2004 roku, zawsze w lecie. Trwa pełny tydzień roboczy (stąd nazwa). Z początku miał być to jedna nieprzerwanie trwająca przez kilka dni i nocy gra. Gracze jedli i spali w strojach, pełnili warty w nocy na murach (wtedy drewnianego fortu w Gdańsku Chwaszczynie). Powoli tygodniówka przerodziła się w mały konwent LARP, na którym gra główna trwa zazwyczaj tylko jeden dzień, podczas gdy inne zajmują LARPy w innych konwencjach niż świat ZT.
Tygodniówka to specyficzna impreza nastawiona bardziej na tworzenie społeczności wokół Zardzewiałego Topora, choć w miarę jej kolejnych edycji liczba grających wzrasata. W 2011, na tygodniówkę przybyło ok 40 osób, co jest już całkiem dobrym wynikiwm (jak na warunki ZT). Na tygodniówce gry zaczynają się zazwyczaj popołudniu lub wieczorem, a obowiązkowym punktem programu jest wspólne ognisko. Tygodniówkę prześladuje pech związany z deszczem, który na dwóch ostatnich edycjach padał co dzień, lub co dwa.
Zobacz także
Oficjalna strona Tygodniówki - http://tygodniowka.larp-zt.pl/
Ad blocker interference detected!
Wikia is a free-to-use site that makes money from advertising. We have a modified experience for viewers using ad blockers

Wikia is not accessible if you've made further modifications. Remove the custom ad blocker rule(s) and the page will load as expected.