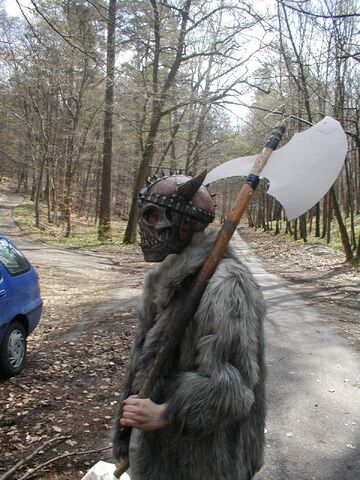 Tamadornczycy to luźna grupa plemion zamieszkująca północno wschodnie rubieże Drikanu, wraz z wyspami na morzu lodu i morzu barbarzyńców. Z powodu swojej gwałtownej natury i braku faktycznej władzy królewskiej nazywani są "Barbarzyńcami".
Tamadornczyków poza ich ojczystymi ziemiami można także znaleźć w dużej liczbie w Navarsh. Spora ich liczba zamieszkuje również dzikie tereny Canieh i Kemock. Znani są ze swojego upodobania do łowów i wojny.
Klany
Plemiona tamadornczyków znane są jako "klany". Każdym klanem przewodzi Jarl - wódz plemienia. Wszystkie klany uznają symboliczną władzę "Wysokiego Króla z Ragny", wybieranego spośród Jarlów, po śmierci poprzednika, przez wyrocznię Devartisa w Ragnie. W razie najazdu potężnego wroga na Tamadorn lub w przypadku większej wyprawy wojennej Wysoki Król staje na czele wojsk połączonych klanów.
Do klanów zaliczamy:
Klan Foki
Klan Jastrzębia
Klan Jelenia
Klan Kruka
Klan Niedżwiedzia
Klan Wilka
Zobacz także Barbarzyńcy (frakcja).
Ad blocker interference detected!
Wikia is a free-to-use site that makes money from advertising. We have a modified experience for viewers using ad blockers

Wikia is not accessible if you've made further modifications. Remove the custom ad blocker rule(s) and the page will load as expected.