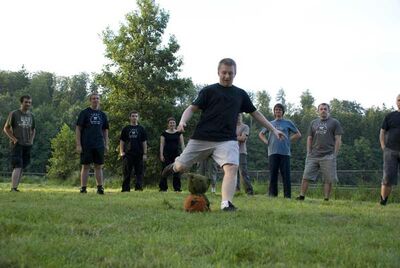 Mali krewni goblinów , snotlingi nie dorastają do 60 cm wysokości i znajdują się na granicy inteligencji. Snotlingi mają szarą, brązową, bądź zieloną skórę, duże żółte lub czarne oczy, spiczaste uszy i nosy oraz kościste i nieproporcjonalne do reszty ciała ręce i dłonie. Snotlingi można spotkać we wszystkich dzikich miejscach Drikanu i Zolhmardu.
Snotlingi kochają żarty. Niestety nie można uznać, że ich żarty są w dobrym stylu. Przynajmniej dla ludzi. Snotlingi lubią srać do kanapek i ubrań niczego niespodziewających się podróżników. Inną zabawą, jest przegryzanie wszystkich pasków i wiązań.
Piłka snotballowa
Edit
Podczas gry w Snotball używa się piłki, którą w rzeczywistości jest związany i przytomny snotling (przynajmniej do chwili gdy nie umrze lub zemdleje od obrażeń). Snotlingi nawet powiązane, potrafiły odgryzać palce zawodnikom, dlatego stosuje się specjalne kneble.
Ad blocker interference detected!
Wikia is a free-to-use site that makes money from advertising. We have a modified experience for viewers using ad blockers

Wikia is not accessible if you've made further modifications. Remove the custom ad blocker rule(s) and the page will load as expected.