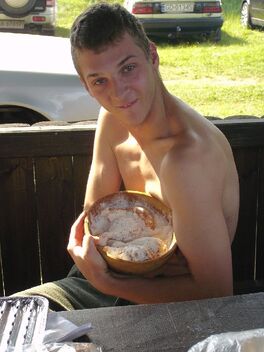 Mikołaj "Quasar" Kiełczyński potocznie nazywany Kiełasem (młodszym). Znany wszystkim z tego, że sprzedaje nihilickie zegarki i "...."* kamienie. Sprzedawje również różne amulety, ale nie ponosi odpowiedzialności za ich działanie/skutki uboczne.
Tu wstaw bardzo chwytliwą nazwę.
Ciekawostki:
Edit
Uparcie będzie twierdził, że Jego amulety mają prawdziwą moc, ale działają jedynie na larpach. Jeśli będzie chciał Ci coś wcisnąć - tak Cię zagada, że i tak to kupisz.
Wraz z Beniem i Vitaliusem są naszymi larpowymi Żubrami;
Potrafi zadzwonić do Mata w środku nocy tylko po to, aby opowiedzieć mu nowy kawał z kategorii "dowcipy rodzinne".
Ad blocker interference detected!
Wikia is a free-to-use site that makes money from advertising. We have a modified experience for viewers using ad blockers

Wikia is not accessible if you've made further modifications. Remove the custom ad blocker rule(s) and the page will load as expected.