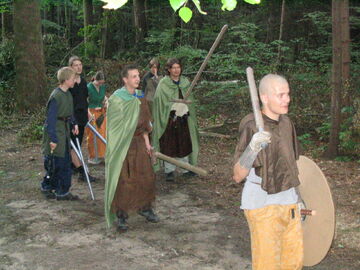 Leśny lud zamieszkujący w większości lasy Kemocku . Liczne społeczności zamieszkują również lasy Anfanu (Tullmor), Caniehu i Tamadornu .
Starożytni nihilici
Główny artykuł Wajanderowie
Nihilici są potomkami wajanderów , nazywanych starożytnymi nihilitami, którzy posiadali w Kemocku dziewięć wieków temu własne państwo.
Dagon
Główny artykuł Dagon
Nihilici posiadają własną monoteistyczną wiarę. Ich jedynym bogiem jest Dagon , pan lasu.
Plemiona nihilickie
Nihilici przez podzieleni są na kilka plemion, w zależności od królestwa, które zamieszkują:
Nihilici wschodni - Kemock.
Nihilici zachodni - Canieh.
Galoskowie - Tamadorn.
Tullmorczycy - Anfan.
Zobacz także
Zobacz również Nihilici (frakcja)
Ad blocker interference detected!
Wikia is a free-to-use site that makes money from advertising. We have a modified experience for viewers using ad blockers

Wikia is not accessible if you've made further modifications. Remove the custom ad blocker rule(s) and the page will load as expected.