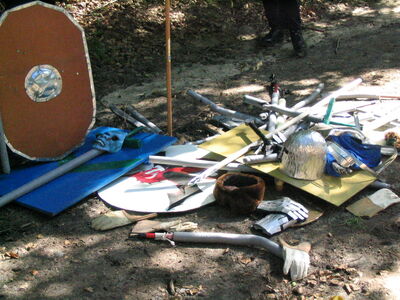 Bezpieczny miecz to podstawowa broń używana w walce na LARPach "Zardzewiały Topór".
Jak zrobić bezpieczny miecz
Do zrobienia bezpiecznego miecza potrzebujesz rury PCV (o długości miecza jakim chcesz walczyć) o średnicy 5 cm, otuliny do rury PCV o średnicy 5 cm, szarej taśmy klejącej. Otulinę nakładasz na rurę, zostawiając sobie 20 cm na rękojeść. Następnie oklejasz cały miecz taśmą klejącą i tworzysz czubek z otuliny (pusty w środku dla bezpieczeństwa). Z pozostałej otuliny i taśmy formujemy jelec miecza.
Podział mieczy
Na LARP ZT trzeba posiadać odpowiednią umiejętność do posługiwania się bezpiecznymi mieczami. Miecze dzielimy w zależności od ich długości na:
Miecz jednoręczny
Miecz półtoraręczny
Miecz dwuręczny
Z mieczem jednoręcznym można używać tarczy.
Ciekawostki
Na jednym z pierwszych LARPów miecze robiło się z kijów od szczotek aluminiowych, które następnie pokrywało się klejem i otuliną.
Kilka razy na LARP pojawiały się miecze z rdzeniem z kija bambusowego lub z rdzeniem z innego tworzywa.
Miecze z rdzeniem drewnianym lub metalowym są zabronione!
Ad blocker interference detected!
Wikia is a free-to-use site that makes money from advertising. We have a modified experience for viewers using ad blockers

Wikia is not accessible if you've made further modifications. Remove the custom ad blocker rule(s) and the page will load as expected.