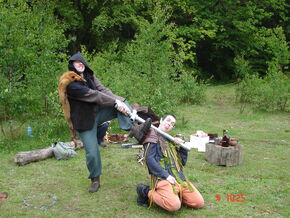 Mateusz "Ucha ni ma" Zachciał. A nie! Zaraz - "Uhanimar". Wcale się to z prawdą nie zgadza, bo ucho to ma gumowe. Jest "głównym" twórcą LARP "Zardzewiały Topór" i od zawsze jest tut szefem. Na pierwszych grach tworzył frakcję Strażników Dróg. Jako ork wymyślił, że te okazują sobie szacunek plując trawą z ust. Na grze można go spotkać w szerokim wachlarzu ról, od wiejskiego głupka po średniowiecznego lorda. Mat walczy przy pomocy długiego miecza, choć kiedyś posiadał również łuk (być może dalej leży w przepastnych odmętach jego garażu).
Ciekawostki:
Edit
Ma żonę - Asię.
Celem Jego życia jest zostanie najważniejszym w całym fandomie.
Jest On prezesem Zardzewiałego Topora.
Ma zaczarowany samochód. Za każdym razem, gdy Jego auto jest zapakowane do granic możliwości Mat i tak wciśnie do środka jeszcze 2 skrzynki r

ekwizytów.
Spróbujcie go skrytykować - zapyta gdzie twoja zaległa składka i czemu nie było cię na ostatnim LARP/ bitwie/ treningu/ integracji/ konwencie/ podwieczorku/ karmieniu piersią.
Mat uważa się za mistrza dowcipasów. Zwłaszcza, gdy jest po stronie je robiącej. Dlatego jemu nie robimy dowcipów, bo boimy że się popłacze.

Ad blocker interference detected!
Wikia is a free-to-use site that makes money from advertising. We have a modified experience for viewers using ad blockers

Wikia is not accessible if you've made further modifications. Remove the custom ad blocker rule(s) and the page will load as expected.