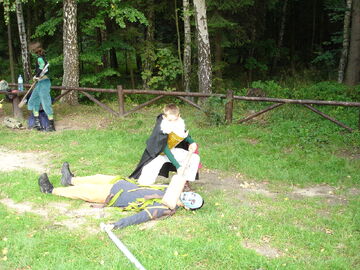 Starożytna rasa, która toczyła z elfami konflikt znany jako "Stare Wojny". Po jego zakończeniu krasnoludy wyniosły się do swoich fortec i miast schowanych głęboko pod górami Zilarard . Obecnie krasnoludy opuszczają swoje schronienia w poszukiwaniu surowców lub utraconej wiedzy, która znajduje się w ruinach ich dawnych miast.
Charakterystyka
Krasnoludy są niskimi humanoidami, którzy rzadko dorastają do metra osiemdziesięciu centymetrów. Noszą długie brody (prawdopodobnie ich kobiety także). Ich ciało jest przystosowane do pracy podziemią. Ich tolerancja wobec alkoholu, trucizn i magii jest o wiele większa niż wśród ludzi. Z tego też powodu niemal cała populacja krasnoludów jest odporna na jakiekolwiek rodzaj magii skierowany przeciwko nim.
Technika
Jako, że krasnoludy nie znają się na magii ich umysły potrafią obejść większość problemów, do których jest wykorzystywana. Krasnoludzka technika oprócz niezwykle mocnych stopów metali, oręża i osłon zdolnych przetrwać zionięcie smoka, potrafi również wytwarzać niesamowite machiny napędzane przez parę i naftę.
Archeolodzy
Krasnoludzcy archeolodzy są jedynymi z niewielu, którzy opuszczają góry Zilarard. Robią to w poszukiwaniu schematów i kronik dawno zapomnianych już krasnoludzkich królestw.
Ad blocker interference detected!
Wikia is a free-to-use site that makes money from advertising. We have a modified experience for viewers using ad blockers

Wikia is not accessible if you've made further modifications. Remove the custom ad blocker rule(s) and the page will load as expected.