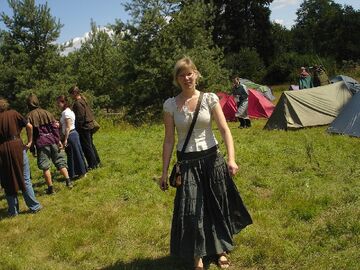 Justyna~Meler, znana jako (to zaskakujące!) Justyna. Ściągnięta na larpa w zamierzchłych czasach przez Mata. Obecnie bardziej zajęta światem rzeczywistym niż larpowym (a fe!).
Ciekawostki:Edit
Justyna jest siostrą Magdy.
Jest również w związku małżeńskim z Sebą (biedaczek - nawet żona Go nie dokarmia).
Justyna jest jedyną osobą, na którą Seba nigdy nie wrzuci. NIGDY!
Zajmuje się przygotowywaniem swoich dzieci do larpowania (ma przy tym dwie niańki - Magdę i Małego).
Ad blocker interference detected!
Wikia is a free-to-use site that makes money from advertising. We have a modified experience for viewers using ad blockers

Wikia is not accessible if you've made further modifications. Remove the custom ad blocker rule(s) and the page will load as expected.