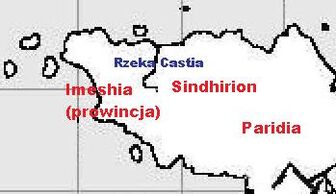 Półwysep Imeshijski znajduje się na północnym zachodzie Drikanu, granicząc od południa z Lytionem i od zachodu z Zitionem. W jego skład wchodzą trzy imeshijskie prowincje: Imeshia , Sindhirion i Paridia.
Półwysep choć położony na północy, to ze względu na bliskość ciepłego prądu oceanicznego z zachodu, posiada umiarkowany klimat. Łagodne zimy i ciepłe lata są tutaj normalnością. Z powodu braku większych pasm górskich, region ten jest w większości rolniczy (Sindhirion), z dużą ilością pastwisk (Paridia).
Ad blocker interference detected!
Wikia is a free-to-use site that makes money from advertising. We have a modified experience for viewers using ad blockers

Wikia is not accessible if you've made further modifications. Remove the custom ad blocker rule(s) and the page will load as expected.