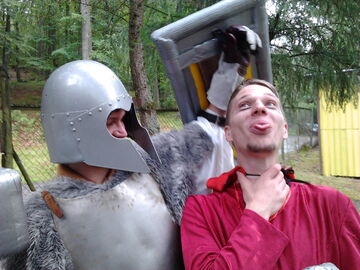 Dowcipas to forma żartu popularna wśród
larpowców
. Żarty te cechują się często
głupotą oraz
pewnym ciągiem przyczynowo skutkowym (np. A robi kawał B, B odpowiada A, A odpowiada B itd.)
Ciekawostki
Edit
Loen jest królem dowcipasów.
Popularnym dowcipasem jest poranne budzenie (tak koło 12stej lub 13stej z rana). Budzenie o 10 jest uważane za czyste barbarzyństwo i sadyzm.
Nigdy nie robimy dowcipasów Matowi. Popłakał by się. Nie działa to jednak w drugą stronę. Mat jest zawsze pierwszy na miejscu, gdy rozpoczyna się poranne budzenie.
Pewnego dnia grupa larpowców przetestowała konstrukcję nowego namiotu Mefiego przenosząc go z miejsca na miejsce wraz z rzeczami, które były zostawione w środku (leciutkie!).
Ad blocker interference detected!
Wikia is a free-to-use site that makes money from advertising. We have a modified experience for viewers using ad blockers

Wikia is not accessible if you've made further modifications. Remove the custom ad blocker rule(s) and the page will load as expected.