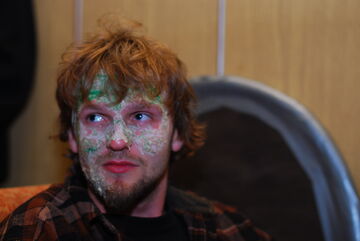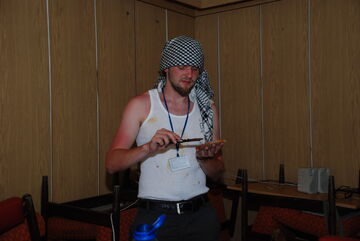 Człowiek znany wszystkim po prostu jako Benio. Wraz z Kiełasem i Vitaliusem są naszymi larpowymi Żubrami.
Ciekawostki:
Edit
Jego ulubionymi zwierzątkami są wiewiórki. Może też dlatego właśnie tak nazwał swoje buty.
Jako jedyny potrafi przespać najważniejsze wydarzenie całej fabuły:bardzo głośne przywoływanie strasznego Demona. We śnie nie przeszkadzają mu żadne wrzaski.
Benio potrafi zasnąć w każdym miejscu. W KAŻDYM!
Benio przybył na LARP jako jeden z nihilitów. W przeciwieństwie do reszty swoich współbraci nigdy nie przejawiał chęci stworzenia własnej frakcji. Nikt się zresztą nie dziwi.
Ad blocker interference detected!
Wikia is a free-to-use site that makes money from advertising. We have a modified experience for viewers using ad blockers

Wikia is not accessible if you've made further modifications. Remove the custom ad blocker rule(s) and the page will load as expected.